Did you know Fitzpatrick's is a BYO restaurant? But what does that mean? What can you expect when you bring your own to Fitzpatrick's?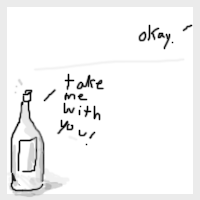 First, the cost will be considerably lower. Did you know that wine and alcohol have some of the highest markups in the industry? By bringing your own you can splurge for that extra dessert.
Enjoy favorites from your own wine cellar or brew bucket to share with your friends, family, and guests. BYO gives you the freedom to enjoy your favorite drinks with your favorite meals. Great food, great beverage, great night!
We provide all the accessories you need – corkscrew, bottle opener, wine buckets, glassware – but you have to do all the work. BYO means that we can't sell or handle the alcohol, so practice opening those bottles before you head out for the evening!
We'll need to see some ID, of course.
Please remember to choose a designated driver or call a cab. We don't mind having your car overnight in the name of safety.
So, what will you drink?
Much of your drink choice depends on preference and circumstance. You should drink what goes with your meal and you should drink what you like. We've got some tips and suggestions for finding the best beverage for you, but drink what you like!
Good wine or beer choices for steak will include something bold enough to hold its own against brawny flavor of the steak with just the right amount of acidity to balance the fattiness.
Wines for steak: Cabarnet Sauvignon, Merlot, red Bourdeaux, Shiraz, & Zinfandel
Beers for Steak: Dry Stout, Abbey Dubbel, & Weizenbock
If you're craving fish for dinner, think about whether you want something light in flavor or big and bold.
Wines for Fish: Chardonnay, Sauvignon Blanc, Pinot Noir, & Burgundy.
Beers for Fish: Hefewizen, Witbier, Pilsener, Blonde Ale
For more information on Beer & Wine food pairings check out these websites:
Or head on over to Passion Vines for a handpicked selection of the finest wines and craft brews in the area. One of Passion Vines' knowledgeable staff members will help you choose the perfect wine or beer for your next meal or party.