UPSCALE TASTE, HOMETOWN PLACE
Fitzpatrick's is a three-generation family-owned and operated restaurant located in the heart of Somers Point on the Jersey shore.  Bill Hurst, owner and operator, saw potential in its humble beginnings as a small, 25 seat deli.  With the help of his father and son, Fitzpatrick's has grown over the past 28 years to a full-service, 150 –seat restaurant.
ABOUT THE FAMILY
After graduating from the Culinary Institute of America, Bill Hurst worked in Atlantic City, honing his skills and dreaming of owning his own restaurant one day. In 1989, he found the perfect opportunity with the (then) little Fitzpatrick's Jewish Deli. Partnering with his dad, Carl, the pair worked diligently to offer high-quality deli staples, prompting loyalty from customers and making room for expansion.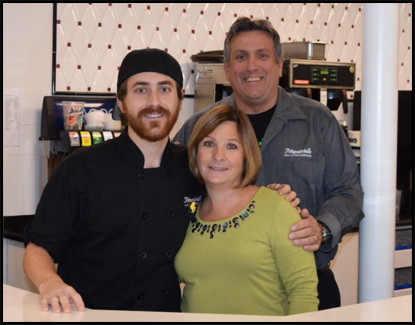 Throughout her youth, the first Hurst child, Leanne, was a familiar face, waitressing in summers and on weekends.  When he was old enough, Bill Jr. joined his father and grandfather in the kitchen, working his way up from cleaning crew to prep cook to line cook. After graduating from the Academy of Culinary Arts and picking up a few tricks in the Philadelphia restaurant scene, Bill Jr. rejoined the family business, in 2011 heading up the new dinner service as the executive chef.
Throughout the business journey, Bill Sr.'s wife Patty has supported behind-the-scenes restaurant operations working on everything from accounts payable to marketing to staff support.  If you've called to schedule a catering event – you've probably talked to her.
Bill Sr. and Pat are active in the community in their current roles as officers of the newly formed Somers Point Restaurant Association (SPRA) in their efforts to bring top notch dining events to Somers Point that produce funds for the Community Food Bank of Southern, NJ and the Academy of Culinary Arts Program at ACCC.
Fitzpatrick's is proud to have won many "Best of the Press" awards over the years for the consistency of food and service in the categories for breakfast, lunch, deli,  tapas, and catering.