It's Summer!  Time to stock up on charcoal and fill your propane grills for another exciting season of outdoor cooking.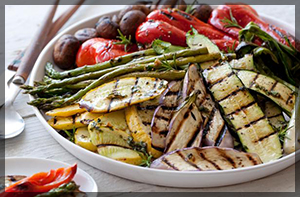 Hope you enjoy my 3-part blog dedicated to one of our favorite past times, grilling. In this series, I'll be giving you suggestions, tips and recipes to raise the bar at your next BBQ by surprising your family and friends with some new tastes from the foods you eat all year long. The most important secret? Getting creative! Experiment with all the food groups to change up, enhance and enjoy healthier options. We'll be combining all the traditional favorites such as meats, fish and vegetables – and even some fruity desserts to offset that summer heat.
The month of June is dedicated to vegetables of all types. Enjoy Jersey Fresh produce char-grilled to perfection and topped with a savory sauce for a main course staple. From carrots, fennel, corn, Brussels sprouts, romaine lettuce and potatoes to the ones we are more familiar grilling like tomatoes, onions, mushrooms and asparagus, you will be certain to relish in the new-found tastes of this essential food group.
GARDEN TO TABLE GRILLING – Basic Starter Tips!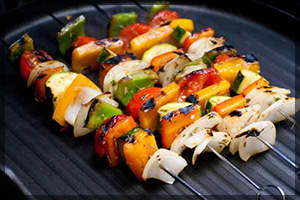 PREP UP! Always prepare all of your grilling ingredients first, and make sure you have plates for the finished dishes. Better to be prepared than panic when you're ready to serve.
PREPARE YOUR GRILL – Without question, a HOT AND CLEAN grill is your Key to Success! Take a few moments before grilling to prep your cooking space.
TOSS all your vegetables in a fine Olive Oil with salt and pepper to really bring out their flavors and prevent burning.
EXPERIMENT with an herb mix from France – Herb de Provence (found in the spice aisle of your local grocery store, or you can make your own.)
START with placing the firmest vegetables on the grill.
KEEP GRILLING! The more you grill and know your BBQ, the better your technique will be and can start claiming Master- Grille bragging rights. 
Uncertain of which vegetables to start with? I recommend several below, complete with tips and suggestions on how to get the best taste from your stand alone favorites, plus those that can add extra flavor to an everyday salad. I hope you enjoy my favorite summer recipe that is always a win-win for any taste and crowd.
Beets
Bring out the sweetness with a variety of multi-colored ones. Peel your beets first, slice and grill with a few thick slices of your favorite onions. When your beets are done, top them with olive oil and serve on some tender butter lettuce.
Corn on the Cob
Char up your oiled corn, slice kernels and add to your favorite salad for a nice tasty accompaniment.
Grilled Cauliflower Steak
Cut your cauliflower in thick slices from head to husk. Add oil, salt and pepper and char-grill until it browns slightly. Top with a Bleu Cheese crumble and Buffalo wing sauce.
Jersey Tomato
This garden favorite when char-grilled will reduce the water content and intensify the flavor profile! Be sure to top with a good Asiago cheese, and add it to a grilled potato or eggplant slice.
Romaine Lettuce
Cut your lettuce in half and lightly oil it along with salt and pepper. Place it on a HOT grill to char the outer leaves without losing their crispness. Cut several lemons in half and grill them to obtain a nice warm vinaigrette, then whisk with Dijon mustard, a hardy olive oil, salt and pepper and a splash of Worcestershire sauce.
Zucchini
Cut your Zuchs in half lengthwise and add oil, salt and pepper. Top them with a mixture of bread crumbs, Parmesan, garlic and diced tomatoes for a tasty side.
White Potatoes
Leave your potato skins on to retain nutrients and flavor. Microwave a whole potato halfway and then slice and grill one side until golden brown. Turn over and top with some small grilled peppers along with onions and cheddar cheese.
Chef Bill's Grilled Veggie Pizza Recipe
I have to stress that preparing your grill type is the most important step in outdoor pizza cooking. You definitely will be disappointed if your pizza dough becomes too charred after all your labor. Edible for sure, but will taste like charcoal with a crunch, and yes I found out the hard way.  
Propane Grill – Experience with this type of grill will work best as you can control the temp throughout the cooking process, set on medium heat. 
Charcoal Grill – For those that use this type of grill preparing the coals to the right temp will be your challenge. You can invest in a charcoal pizza stone which would prevent charring. Or challenge yourself with utilizing a sparse amount  of coals spread out evenly in grill. Once coals are hot, wait until they calm down a bit before placing your dough on grill. Always be sure to keep checking the underside. May try putting a piece of tin foil on top of the coals to cut the heat, which is how I saved my pizza in a pinch.
Pizza is cooked on both grill types with the lid closed. Also investing in a pizza paddle or a long handle grill spatula to carefully remove your Italian masterpiece from grill to cutting board.  Fresh pizza dough can be purchased from your grocer's freezer section. 
Prepare your favorite sauce by charring a few Roma tomatoes until soft and tender. Take off grill and peel off charred skin.  Add onion & garlic powder. Mix with a potato masher until sauce forms.
Prepare and grill your favorite veggie pizza toppers – onions, mushrooms,eggplant, etc.
Roll out your prepared dough and stretch with your fists as much as possible before placing directly on the grill or charcoal pizza stone. Top with prepared sauce, cut grilled veggies, fresh basil and store made mozzarella cheese.
Close your grill lid and cook on medium until the dough is golden brown and cheese is bubbly.
Carefully slide the pizza off of the grill and let it cool on a large cutting board.
Top with Parmigiana Reggiano and enjoy!
Bon Appetite!