Heralding the end of summer and the beginning of the calm season in on the Jersey Shore, autumn has taken its windy hold on us all.  It's a time for pumpkins, hay rides, and of course, Somers Point Restaurant Week!
Get your Passport stamped for Lunch & Dinner at Fitzpatrick's.
Lunch
$11.07
Entree
Slow Roasted Pork Loin
On Ciabatta bread with au jus and sweet potato tots.
Chicken Pot Pie
Served with roasted root vegetables.
Beef Brisket Platter
Served with potato latkes and roasted root vegetables.
Dessert
Homemade Pumpkin Pie
Apple Cheese Strudel
Dinner
$25.07
Appetizer
Butternut Squash Soup
Garnished with squash seeds and green onions.
Sautéed Scallops (2)
Served over pumpkin risotto with
a sweet apple cider reduction sauce.
Fig Ravioli
Served over bleu cheese cream
and topped with port wine reduction.
Entree
Roasted Chicken Breast
Served over root vegetable stuffing
with a roasted garlic au jus.
Rack of Lamb
Served with creamed spinach and caramelized onions sauce.
Veal Chop
Served with sautéed Brussels sprouts and parsnip puree.
Dessert
Pumpkin Crème Bruleé
Apple Pie
Chocolate Pudding Pie
The fig ravioli, in particular, has been getting the star treatment:  Sweet figs stuffed into ravioli and topped with a savory bleu cheese sauce hits just the right notes for fall.
To make your own Bleu Cheese sauce at home is very simple: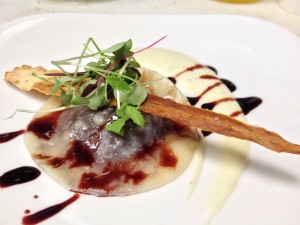 Reduce heavy cream until it coats the back of a spoon.
Add Bleu Cheese on low heat.
Salt and pepper to taste.
And that's it!  Just pour over fresh or frozen ravioli for an indulgent dinner.
This year's theme for Restaurant Week is "A Moveable Feast" based on the book by iconic American author Ernest Hemingway.  From November 8th – 17th twelve local restaurants will be participating in our own Moveable Feast with the help of a restaurant week passport.  The Passport serves as your guide through all the local eateries in Somers Points (us included, of course) AND it serves as your entry to win a $100 Visa Gift Card!  As you feast your way through Somers Point, collect stamps at each restaurant you visit.  The more stamps you collect, the more chances you'll have to win!  The Passport is available at participating restaurants during Restaurant Week.