Dinner

SANDWICHES 

Substitute onion rings 2.00
Substitute sweet potato fries 1.00
BIG FITZ SPECIAL….. 11.00
Corned beef, fresh roasted turkey breast or roast beef with coleslaw and Russian dressing on Jewish rye bread with potato salad
BAKED HAM, TURKEY & COLBY. . . 9.00
Russian dressing, lettuce, tomato on rye toast 
REUBEN. . . 13.00
Corned beef, turkey, or pastrami with melted Swiss cheese, sauerkraut and Russian dressing on grillled rye bread with potato salad
TURKEY CLUB JUNIOR. . . 9.00
Fresh roasted turkey breast, lettuce, tomato, crispy bacon and mayonnaise on white toast with French Fries
GRILLED HAM, MELTED SWISS CHEESE & TOMATO. . . 8.50
Tomato, honey mustard on Texas toast with Onion Rings
HOT CORNED BEEF & PASTRAMI. . . 10.00
Melted Swiss Cheese and Russian dressing on Rye bread with Onion Rings
FITZ ORIGINAL. . . 9.50
Hot roast beef, sweet roasted peppers, horseradish sauce, provolone cheese on a kaiser roll with French Fries 
FRENCH DIP. . . 9.00
Roast beef, melted provolone cheese on Italian roll au jus and served with French Fries
CHICKEN CAPRESE. . . 1300
Grilled chicken, fried tomatows, buffalo mozzarella and pesto on ciabatta bun with French Fries 
CHICKEN SALAD CROISSANT. . . 10.00
Lettuce, tomato, bacon with French Fries
TURKEY & PASTRAMI, SWISS. .  . 10.00
Cole slaw, Russian dressing on rye toast with Onion Rings
HOT OPEN FACE . . .15.00
Fresh roasted turkey, beef brisket or roast beef on white bread & smothered in gravy.
Includes house salad, asparagus, & garlic smashed potatoes.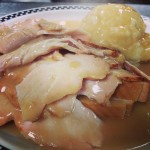 OPEN FACE TUNA MELT. . .10.00
On freshly baked croissant with Swiss cheese, lettuce, tomato, French Fries  
WRAPS
Plain,Honey Wheat, Sun-Died Tomato, Spinach or Herb
Served with French Fries 
JAMICAN JERK CHICKEN. . . 9.50
Colby cheddar cheese, fried onion, lettuce, tomato, ranch dressing
GRILLED CHICKEN BREAST. . . 9.50
Sauteed spinach, mushrooms, green peppers, Monterey Jack cheese and Caesar dressing  
GRILLED CHICKEN CAESAR. . . 9.50
Romaine & Caesar dressing.
GRILLED VEGETABLE. . . 9.00
Monterey Jack cheese, and chipotle ranch dressing
CHICKEN QUESADILLA. . . 10.00
Stuffed with chicken, peppers, onions, cheddar and Pepper Jack cheese. Served with guacamole and sour cream