Fitz for the Cause
Over the past two decades Fitzpatrick's has joined forces with many local community missions.
In 2016, we are partnering with organizations whose work has a strong impact in regional and national communities.
John R. Elliott Campaign for Designated Drivers
The John R. Elliott HERO Campaign for Designated Drivers® seeks to end drunk driving tragedies by promoting the use of safe and sober designated drivers.
Their mission is a simple one: To register one million designated drivers in order to provide safe roadways nationwide.  To learn more about HERO programs and accomplishments, please visit www.herocampaign.org
Thank you Fitz customers for helping "Fitz for the Hero Cause" raise $7,800 since 2012 for the Hero Walk.
Help keep our roadways safe and support programs that make a major impact in your community.
Click on HERO link below to JOIN our TEAM.

ACS Making Strides Against Breast Cancer
Join our  "Breast Damn Deli" team on Sunday, October 16, 2016 on the Ocean City Boardwalk.Thank you Fitz customers for helping us raise $6,700 since 2012 for the Making Strides Walk.  Sign up to walk with our team or donate online. Help create a world with more birthdays and raise dollars to help cure this dreaded disease. (Click on ACS link below.)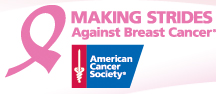 Community Food Bank of New Jersey
Thank you Fitz customers for helping us raise $1,500 since 2014 for the Community Food Bank.