We're coming up on the one-year anniversary of Fitzpatrick's as a Deli & Steakhouse.  Hooray!  The transition to our new locale and deli-dining concept has been an exciting journey and we're looking forward to our second summer season.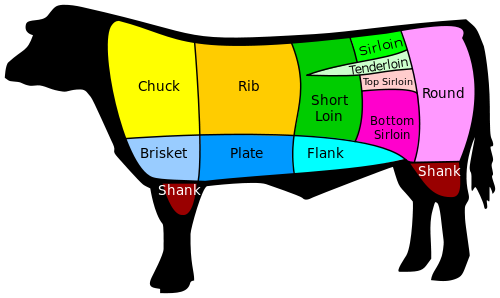 Since our dinner menu includes 5 different types of steak, we're offering a simple guide to choosing the perfect one for you.
At Fitzpatrick's we use nothing but primal cuts that come from the center of the animal, mainly rib and sirloin.  We prefer rib and sirloin cuts because they have a good ratio of meat to fat and are more tender and flavorful than some other cuts – they are just better.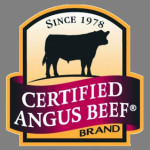 All our steaks are certified Black Angus and  charbroiled to perfection with a special Fitz seasoning.  Steaks can be cooked to any level of doneness, but will always have the best flavor at medium rare.
Our Primal Cuts Include:
The Porterhouse
The biggest steak we sell at 22 oz.  A T-bone combination of the Filet Mignon and the New York Strip Steak.  Very tender with lots of flavor. Porterhouse for Two available as a Fitz-clusive Summer Special on Sunday Nights.
Filet
Two sizes: 9 oz and the 6 oz petite filet.  Filets have the least fat of any cut.  Lean and tender.
Cowboy Steak
Bone in rib eye.  The most flavorful cut.
Prime Rib
Two sizes:  16 oz and 20 oz. Specially seasoned and slow roasted.  Served with au jus for a very tasty and tender roast.
New York Strip Steak
12 oz.  Good proportions of fat and meat.  Very popular.  Cut from the  loin, a muscle that does little work, making a very tender steak.  Sauce selections for  the Strip Steak include: Au Poivre (cracked black pepper on steak with a green peppercorn sauce),   Diane (sautéed shallot & burgundy sauce), Bleu Cheese and Crab Cream Sauce, and Celery Root & Pommery Mustard Cream Sauce.  Strip Steak is available on Wednesday Nights as a Fitz-clusive Summer Special.
Skirt
6 oz.  Very flavorful.  Comes from the Plate, just below the ribs of the animal, making it less tender than other cuts, but very flavorful.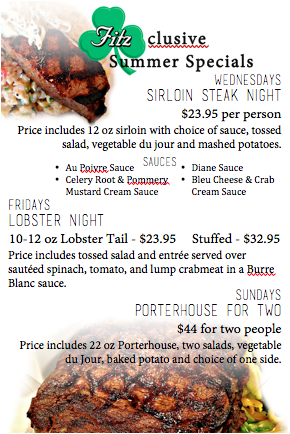 Check out our NEW Summer Specials on Wednesdays, Fridays, and Sundays for quality primal cuts and fresh seafood at a great value.